We are specialists in car keys and immobilisers, we can provide replacement car keys for any car including programing keys to your vehicle immobiliser. If you need a car key programmed, or may be have an immobiliser issue we have the expertise and the equipment to complete the job.
Immobiliser Testing Diagnosis and Programming
If you are in our area we can carry out on vehicle immobiliser testing, this is complete testing of the immobiliser system including the key. We are specialists in our field, and even offer our services to main dealers as they do not have the equipment required to fully test and diagnose immobilser systems. We also test your keys, this means we can pin point exactly where the problem lays.
If your immobilser or keys need programming we can do it, if you have a faulty component like the key … we are likely to have it in stock. It could be that you have a faulty immobiliser unit on the car, once we have carried out a full immobiliser test, and found a unit to be faulty in most cases we are able to save you money by offering a solution, this could be programming a secondhand unit or possibly offering an immobiliser bypass solution.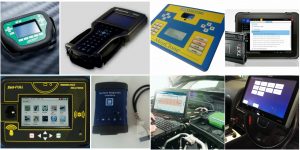 Have an immobiliser problem but not in one of our areas
We are able to offer off vehicle immobiliser testing, you will need to send us the required components for example the engine control unit, immobiliser control unit, any keys you have, and we will bench test your immobiliser system, this enables you to quickly get to the bottom of the problem … is it an immobiliser fault … or is there a wiring issue on the vehicle.
If we find a faulty component, we can offer replacement or repair in most cases, this gets the vehicle back on the road quickly and because we have the ability to reuse or recycle secondhand units it is far cheaper than buying new, saving £££££'s