Lost Car Keys are specialist vehicle locksmiths, we can provide replacement vehicle keys for all makes, this includes cars, vans, trucks, and even if you have lost all of your keys.
We cover the full range of Ford keys including Ford transit keys, as mobile locksmiths we come to your location and provide you with a replacement transit van key, if you have lost your keys we can open the van and cut a key to fit and then program the new key to your van.
Has your Ford Transit remote fob stopped working ?
From 2007, so the mark 7 Ford Transit forwards, the keys have a rechargeable battery inside the key. if you have a mark 7 transit it has a blue remote key and has the rechargeable battery inside, the problem is that these are a sealed key, this means once the key battery has died you need a new key. if your key no longer opens your van on the remote fob, but still starts the van, this is your problem give us a call we have Transit keys in stock.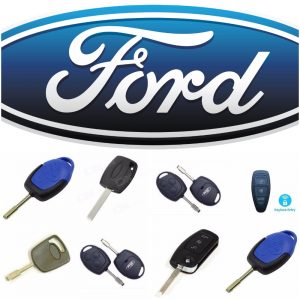 Have a worn Ford key ? The key wont turn in the lock ?
This is very common, Ford Transit vans do a lot of work, and the keys wear, you might have noticed having to jiggle the van key for a while and now it just wont turn at all, we can cut you a replacement key back to its original state, we can also supply new door locks or ignition barrel if required.
Transit Custom or 2014+ Ford Transit keys
No problem we have them in stock and can supply,cut and program your new van key today.